Austin Comerton of Irish Radio Canada shared his experiences of living in and leaving Ireland and the move to Canada with a young family in the 80's.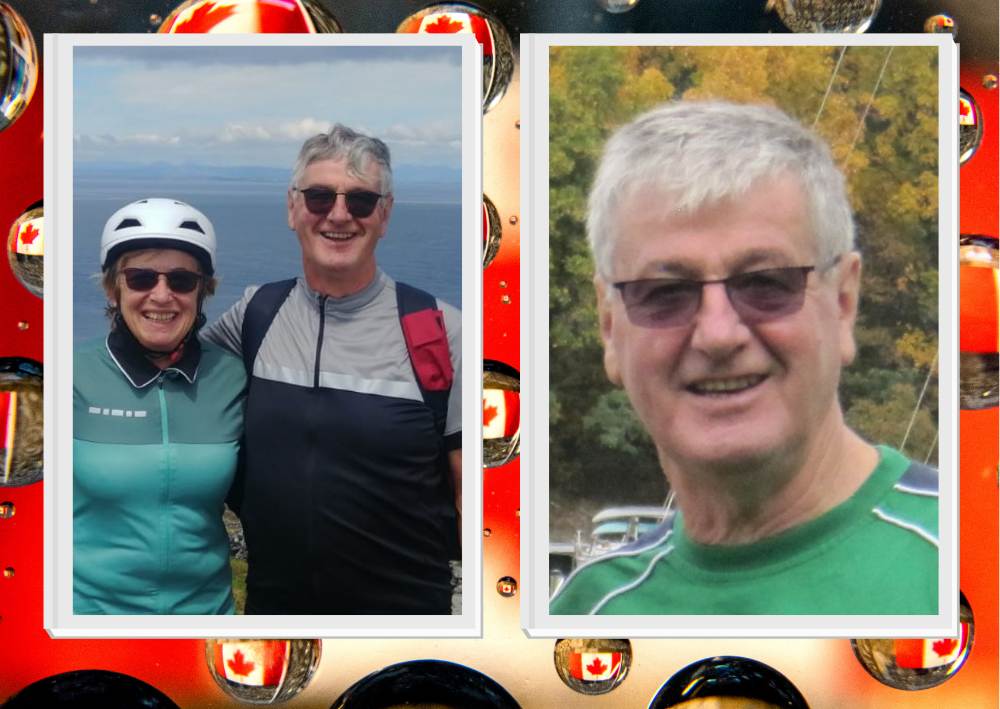 Tell us a bit about yourself.

I'm Austin Comerton, and when asked I claim Ballinasloe, Co. Galway, however my father worked in The Bank and we were transferred during my early teenage years. Initially to Ballyhaunis and then Moate. I returned to boarding school in Ballinasloe. I started school when I was only 3 years old as my birthday is in October and completed my leaving cert when I was only 16 years old. I joined the Seminary to become a Priest and left after 18 months. I then joined the Bank of Ireland and was stationed in Dublin from 1972-1979, after which I moved to Bundoran for a short period and then briefly back to Dublin. I bought a business in Clara, Co. Offaly, then set up new businesses in Athlone and Tullamore.
A brother and two sisters had emigrated to Canada in the '70s and encouraged us to emigrate in 1988, and that Canada would offer more opportunities for our children. We made the decision that it was a one-way ticket and needed to make it work for us.
With no formal qualifications, I had to start on minimum wage installing office furniture and then work up the ladder to a Sales Management position over a 6-year period. When Canada went through a recession in the early 90's I was unemployed but had seen the potential of Electronic Data Interchange (EDI), this was prior to the internet. I set up a BBS (Bulletin Board) and learned to integrate software. That led to a 16-year career in Satellite Telecommunications that allowed me progress to Director of Customer Support Services before retiring in 2012 when the company changed ownership. My career in satellite telecommunications allowed me travel most of Canada and the USA.
Since retiring, I have got involved with an Athlone Mobile App Development Company, TownApps. This keeps my interest in technology up to date and also allows me engage with communities working to promote themselves using modern communications tools. Tell us about Irish Radio Canada
In 2005 I established an Irish radio programme on CHIN 97.9FM, a multicultural station in Ottawa Canada. I had always had an interest in broadcasting, even before leaving Ireland, but could never figure out how to make it happen.
Following encouragement by the late Eamon O'Loughlin (Toronto & Co Clare), I purchased two hours of airtime weekly to bring my dream to reality. My goal was to try to promote the positive influence and impact of the Irish contribution to Canada for many generations and to counteract some of the stereotypical perceptions held of the Irish in a one hour weekly magazine show. I hoped to provide a voice to ordinary Irish people to tell their stories and to demonstrate how the Irish community had an influence on all aspects of life in Canada.
After my wife retired in 2014 I set up Irish Radio Canada as a 24/7 internet station which allowed the creation of a schedule that presented all genres of music by Irish Artists and also to give exposure to new, young and emerging artists. The magazine show now airs daily.
Other Irish Organisations:
In 2008, I approached the Rose of Tralee International Festival and established a centre in Ottawa. I was anxious to find a way to attract younger diaspora to engage in Irish culture and heritage. A number of Ottawa Rose's have now been to Tralee.
I founded the Ireland Canada Chamber of Commerce in 2010 in order to help re-establish a business network to assist Irish immigrants connect during the economic crash in Ireland.
I was privileged to attend two Global Irish Civic Forums sponsored by the Department of Foreign Affairs Emigrant Support Unit.
I have also been privileged to serve on the Board of the Irish Society and the local Comhaltas Branch.
I also served on a Enterprise Ireland Wireless Telecom Advisory Board in Toronto for a number of years.
What do you like to do in your spare (if any!) time?
We love to travel. After my wife Mary retired in 2014 going to the studio to broadcast was inhibiting our ability to travel. We of course love to travel to Ireland and I like to record as much as possible for later broadcast. As Irish Radio Canada is an Internet Radio Station it means I can still broadcast anywhere in the world. Maintaining the website, social media and an App takes time. I had a sail boat, now sold. I also enjoy golf, though don't get to play much. We walk and cycle a lot.
You recently travelled to Ireland, but your stay was longer than planned?
Unfortunately, in August last year we got a call saying Mary's sister-in-law was terminally ill and her brother needed her, so we decided under the circumstances to travel back and a few days after arriving she passed away. We intended travelling back home to Canada, at the end of November, however the Covid situation evolved and we made the decision to stay with her brother through the winter as he was totally alone in an isolated area in the Comeragh Mountains.
However, on 2nd June when travel was allowed, we were able to visit my brother and sister in Galway. We also got to travel around Ireland and visit relations and enabled Mary's brother to get used to us not being there. We were extremely fortunate to be in such a beautiful location that enabled us to get exercise and fresh air within our 5km boundary. Getting our 1st vaccine on 1st May and 2nd vaccine on 3rd July meant we could then arrange to travel home. We eventually made it home on 21st July. Last March I learned how to join short videos of our travels and put music with them and set up a YouTube Channel. It now provides a wonderful memory of the months in Ireland.
What irritates you?
Some people in positions of influence do not recognise the damage they can do to people's mental health. Particularly during this time, creating unrealistic expectations in the minds of, particularly, vulnerable people. The lack of consideration of the common good over the individual want.
What are you grateful for?
I am so grateful for the life I have been given. I'm so privileged to have a wonderful wife, loving children and adorable grandchildren. I have the freedom and ability that when something arises as it did last August, to travel to Ireland I was able to say 'yes' let's pack our bags and go! So, I would say I have been given the gift of being able to say Yes.
What item can you not live without?
My daughter would say coffee, my wife would say biscuits but I would say I cannot live without love and family around me while having a slice of coffee cake and a coffee.
I've come to learn over the years that the onus is on the parent, not the children to build a relationship.
What advice would you give to people thinking of emigrating or returning?
Ireland has not stood still, it's now a dynamic place that you may or may not relate to. I love to visit Ireland but I know I will never return to live in Ireland. When you emigrate you live your life with a foot in two places. You can never have here, what you had there. Nor can you have there what you have here. Sometimes you develop a lifestyle and ethos which changes when you emigrate and it's ok to want to keep the connection with Ireland without wanting to return to live.
Make sure that you consider carefully and if you decide to return that you realise that it may be a different place to what you left and that it may be like having to re-integrate and find your place all over again. The people you knew will have changed, maybe died. The old familiar ways will likely be gone. You also will have changed.
Do as much advance research as that will make the transition much easier if you decide to return home. And when you arrive, don't start comparing to where you have come from. The heart may be driven by emotion. The head needs to rule. There are so many organisations here in Canada and in Ireland that can assist you … including Safe Home Ireland so reach out before you make the final decision!